Dan Dodge, former CEO, founder of QNX, joined Apple this year

Bob Mansfield took over cars initiative with emphasis on tech
Apple Inc. has hired the former head of BlackBerry Ltd.'s automotive software division as new leadership at the iPhone-maker's car team places increased emphasis on developing self-driving technology, according to people familiar with the project.Dan Dodge, the founder and former chief executive officer of QNX, the operating system developer that BlackBerry acquired in 2010, joined Apple earlier this year, the people said. He is part of a team headed by Bob Mansfield, who, since taking over leadership of the cars initiative — dubbed Project Titan — has heralded a shift in strategy, according to a person familiar with the plan.
The initiative is now prioritizing the development of an autonomous driving system, though it's not abandoning efforts to design its own vehicle. That leaves options open should the company eventually decide to partner with or acquire an established car maker, rather than build a car itself. An Apple spokesman declined to comment.
 Apple has hundreds of engineers working on car design and has been targeting a release as soon as 2020. That goal has been affected by multiple departures, technical delays and confusion regarding the direction of the project, according to people with knowledge of the efforts.
Tapering demand for the iPhone, which accounts for more than half of Apple's sales, has emphasized the importance of new sources of revenue. Research and development spending jumped by more than a quarter to $2.6 billion in the three months through June compared with a year earlier.
"The products that are in R&D, there is quite a bit of investment in there for products and services that are not currently shipping or derivations of what is currently shipping," Chief Executive Officer Tim Cook said in a conference call to discuss earnings Tuesday. "There's a lot of stuff that we're doing beyond the current products."
Direct Report
Mansfield answers directly to Cook, unlike his predecessor Steve Zadesky, who reported to hardware chief Dan Riccio, who in turn reported to Cook. Mansfield's division comprises three pillars led by Apple veterans: a software team under John Wright; a sensors group headed by Benjamin Lyon; and a unit of hardware engineers led by D.J. Novotney.
Dodge, who is part of Wright's group, co-founded QNX in 1980 as a student at the University of Waterloo in Canada. The company was sold to Harman International Industries Inc. in 2004 and subsequently acquired by BlackBerry in 2010. QNX developed BlackBerry's latest proprietary mobile operating system, which it still uses in some of its smartphones. It also makes the entertainment, navigation and connected-device system used by Volkswagen AG, Daimler AG, Ford Motor Co. and others. Dodge left QNX in December, according to his LinkedIn profile.
Canada Facility
Apple is opening a research and development center near QNX's headquarters in the Ottawa suburb of Kanata, the Ottawa Citizenreported earlier this year. Just as Apple opened an office in Boston to tap the area's wealth of speech recognition experts, the Kanata office could give it better access to the town's pool of automotive software talent.
As it forges ahead with a dual track that could still result in building its own car, Apple has continued to raid auto companies for engineers with expertise in designing vehicle manufacturing systems, and has hired two Ford engineers in the past year with experience building aluminum-bodied vehicles.
Todd Gray came to Apple in May from Ford, where he built the systems used to manufacture the aluminum body of the F-150 truck. He joined fellow Ford alumna Aindrea Campbell, who was a manager in the body construction engineering team and previously headed a group which researched lightweight materials used in vehicles including the F-150. She joined Apple in September.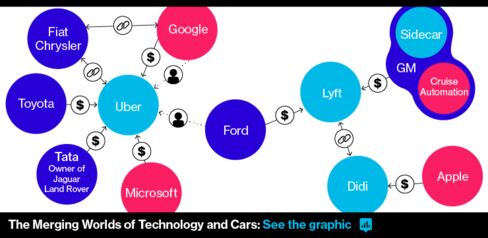 Read More at: http://www.bloomberg.com/news/articles/2016-07-28/apple-taps-blackberry-talent-as-car-project-takes-software-turn