Unless you've been living under a rock, you know that things haven't been going so well for Samsung the past week or two. With a recall in effect due to faulty batteries, I'm afraid it's going to give the Samsung Galaxy Note7 a bad wrap. Dave Rees and I have teamed up again to share our thoughts on what might be the best Android smartphone to date – at least it might be after they fix the exploding battery issue for TheGadgeeter readers.
Dave: Yes, Julie and I have been looking forward to checking out the (potentially) best smartphone of 2016 for a while now. On paper, the Samsung Galaxy Note7, as Julie said, could be the best Android device ever created. But the exploding battery recall has without a doubt killed a majority of the momentum Samsung has worked years to get back…or at least temporarily so.

Hardware specs
Processor: 2.15 GHz, 1.6GHz, Quad Core
Operating System: Android Marshmallow
Memory: 64GB on board memory + 4GB RAM
Network: 2G CDMA: CDMA800, USPCS1900
2G GSM: GSM850, GSM900,DCS1800, PCS1900
3G CDMA: BC0(800), BC1(1900), BC10(800)
3G UMTS (WCDMA): B1(2100), B2(1900), B4(AWS), B5(850), B8(900)
3G TD-SCDMA: B34(2010), B39(1880)
4G LTE FDD: B1(2100), B2(1900), B3(1800), B4(AWS), B5(850), B7(2600), B8(900), B12(700), B13(700), B17(700), B18(800), B19(800), B20(800), B25(1900), B26(800), B29(700), B30(2300)
4G LTE TDD: B38(2600),B39(1900),B40(2300),B41(2500)
Display: 5.7" 2560 x 1440 (Quad HD), dual edge Super AMOLED
Camera (rear): 12MP
Camera (front): 5MP
Wi-Fi, Bluetooth 4.2, NFC, Fingerprint sensor
Expandable Memory: Removable microSD up to 200GB (sold separately)
Headset: 3.5mm Audio Jack
Wireless charging capable
Battery: 3,500mAH, Non-removable
Dimensions: 6.04″ x 2.91″ x .31″
Weight: 5.9 oz
What's in the box?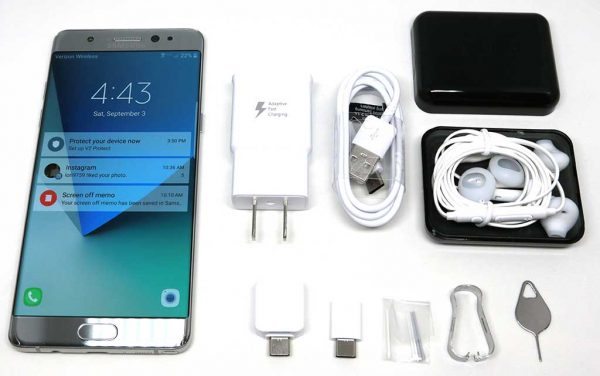 Samsung Galaxy Note 7
AC adapter and USB cable
Micro USB to Type-C adapter
USB to Type-C adapter
SIM card slot removal tool
S Pen replacement tips and removal tool
Headphones with case
Design and features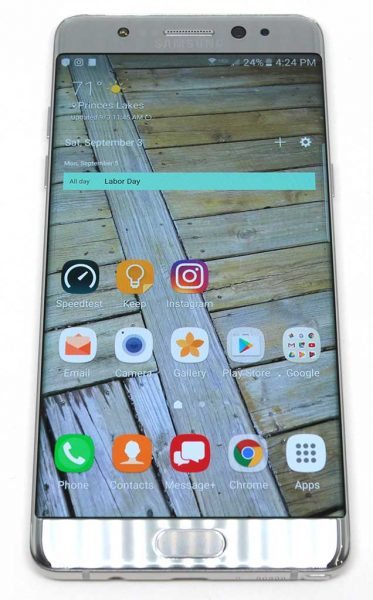 Julie: They say that first impressions are important and my first impression of theNote7 is that it reminds me of a slightly larger Samsung Galaxy S7 Edge. It has the same curved screen edges, rounded corners, home button, USB Type-C charging port and button layouts. It's just a little larger than the S7.
Dave: While very subjective, the Note7 feels more comfortable to hold than the S7 Edge. Even with its 5.7″ screen, the Note definitely feels smaller than the Nexus 6pJulie and I both have been using as our main cellphone this past year.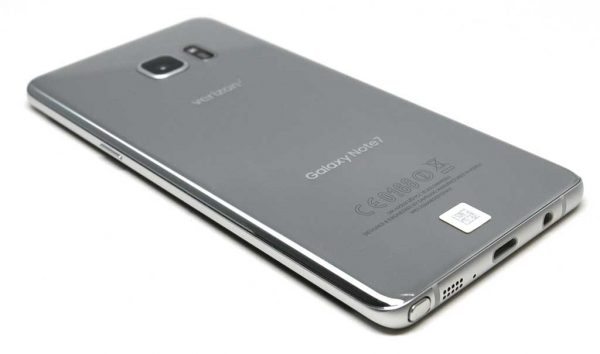 Julie: The back of the Note7 is sealed, so it has no battery swapping capability. But it does support wireless charging which I can appreciate!
Dave: Battery swapping has never been my thing thus I have never missed it but the Note7 reminds me how convenient wireless charging is. I love the build quality of aluminum sandwiched between two plates of Gorilla Glass 5.
Julie: I agree, this phone is solid and had no problems withstanding the pressure of my Gadgeteer squeeze test without flexing, creaking or cracking. The curved edges make this phone comfortable to hold even if it is phablet sized.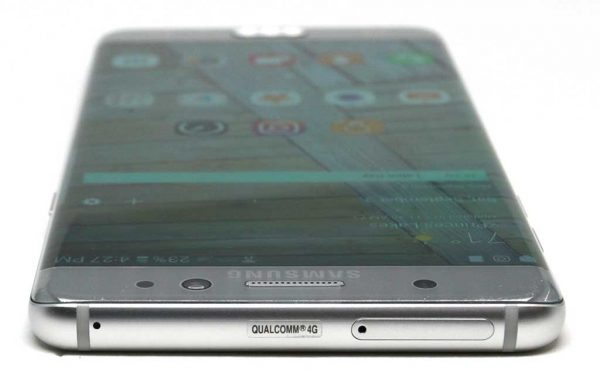 Julie: On the top edge of the Note7, you'll find the combo SIM and micro SD card slot.
Dave: The Note7 can accept any capacity microSD card currently on the market. Even though the Note7 comes with carrier branding, it can accept any modern day nano LTE SIM card.
Julie: If you remember, the Note 5 did not have a micro SD card slot, so it's nice thatSamsung heard all the complaints and gave users what they asked for by bringing this memory expansion feature back.
Dave: Yes, the microSD card is a definite plus. That and the wireless charging are the two features I miss most in my Nexus 6p.
Julie: Ditto.

Julie: On the right side of the smartphone you'll find the power button.

Julie: On the left side are individual volume buttons.
Dave: I prefer the separate up and down volume buttons as compared to the single rocker bar of the Nexus 6p.
Julie: I also like when the volume buttons on are on the left side of the device because I'm a lefty and hold the phone in my left hand. I find it awkward when the volume buttons are on the opposite side of the phone and I need to adjust the sound levels when I'm in a call.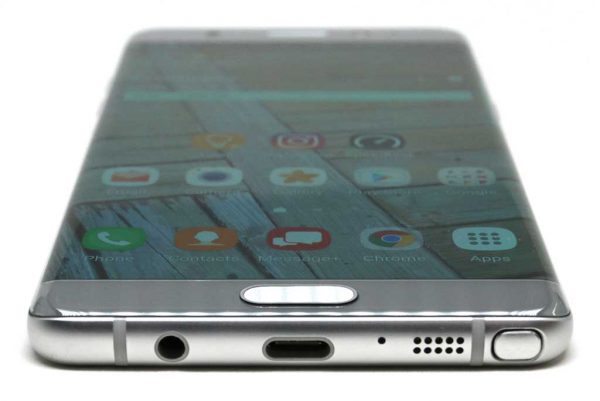 Julie: On the bottom edge of the phone you'll find the S Pen stylus, speaker, microphone, USB Type-C charging port and a 3.5mm headphone jack. I guessSamsung wasn't courageous enough to ditch the headphone jack like Motorola and Apple has done.
Dave: Since 90% of my headphones and earbuds are wireless the 3.5mm audio jack is not really an issue for me. I believe removing it is a good thing, potentially leaving more room for batteries with greater capacity.
Julie: It's a non-issue for me as well… at least it will be once I find a truly comfortable pair of Bluetooth earbuds. I'm still on my quest.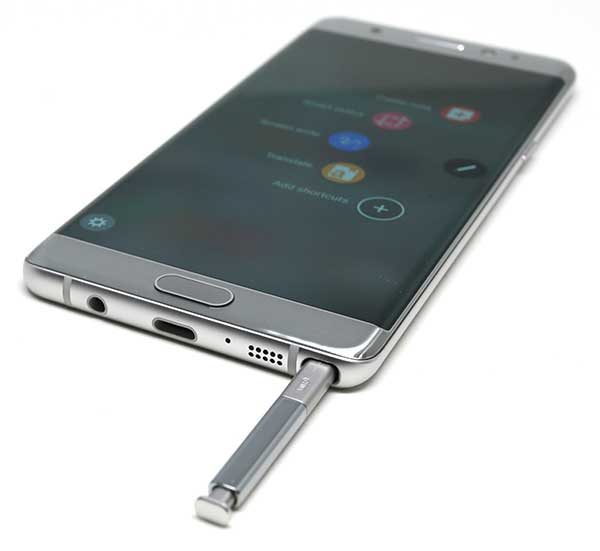 Julie: The S Pen is my all time favorite stylus implementation because writing with it on the screen is very much like writing with a pen on paper. Unlike the previous Note 5, there are no worries that the Note7 stylus can be inserted incorrectly.
Dave: Truth be told, I do not use the stylus much at all. But like Julie, I know many Note users who love it and use it often.
Display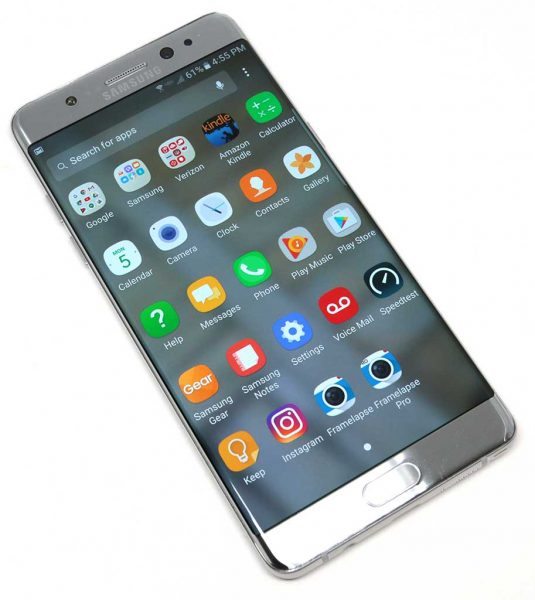 Julie: I've always liked the displays that Samsung uses in their high-end devices and the screen in the Note7 is no exception. It's big, it's bright, it's vivid and it's responsive. I have nothing bad to say about the display… unless you count the curved edges. I'm not a fan. I prefer a flat screen. The curved sides almost make me feel claustrophobic. I know that sounds weird, but it feels like the screen is being squeezed.
Dave: The edge to edge curved screen has grown on me. The S7 Edge was always inadvertently activating apps along the edge of the screen due to gripping the device. The engineers who designed the Note7 heard the complaints and tweaked the device so that it is much less of an issue. The 5.7″ screen is gorgeous without a doubt…sharp, vibrant, responsive. Everything you would expect in a flagship smartphone from Samsung. Though I too would prefer a flat panel device.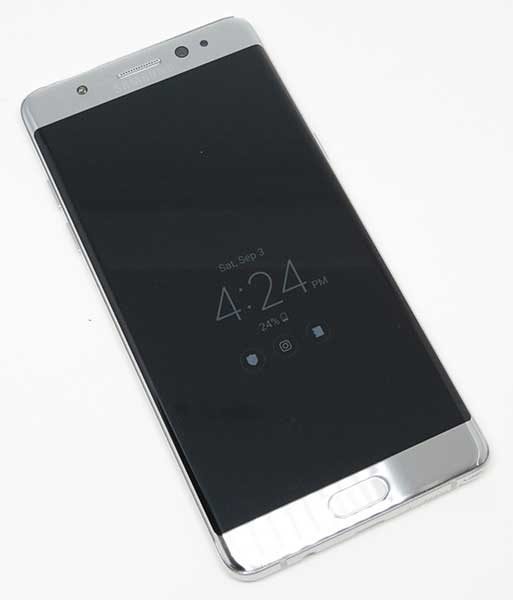 Julie: I do like that the always-on display feature that we first saw in the Samsung Galaxy S7 Edge has made its way to the Note7. It turns your phone into an always on clock or calendar display. It also shows icons for missed notifications.
Dave: Yes I agree, the always-on display is a great feature, especially when you want to check the time in the middle of the night or in a meeting.
Julie: Speaking of checking the time in the middle of the night, the special edge features allow for showing a clock along the curved edge. Other edge features include edge feeds, edge panels, and edge lighting that lights up the edge in a custom color when you receive a call and the phone is laying face down.
Dave: I NEVER lay my smartphone face down.
Julie: Me neither. Here is a quick video that demos a couple of those curved edge display features.
Audio quality
Dave: I really like the front blasting stereo speakers of the Nexus 6P and use them all the time. The tiny mono speaker of the Note7 is lackluster to say the least. Also when using Bluetooth headsets, there were many times I had to max out the volume to hear the music.
Julie: I agree. Even the sound (volume) in calls was not loud enough for me when I used the phone in my car with the AC on. I would have to sometimes strain to hear the person on the other side of the conversation when I had the volume at the max level.
Camera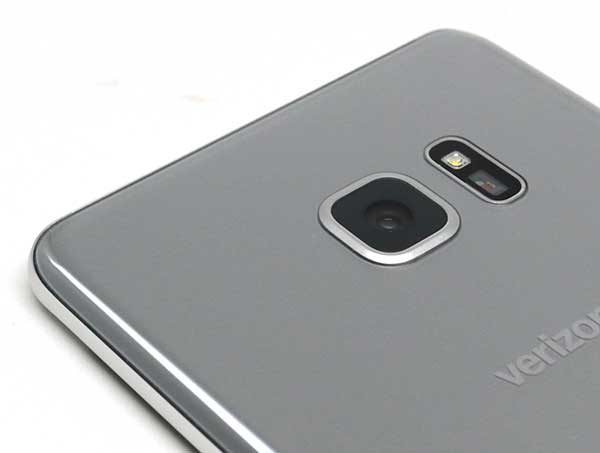 Dave: Smartphones have, without a doubt killed off point-and-shoot cameras. With Apple and Samsung leading the charge creating phones that take truly amazing pictures. With the Note7 being Samsung's latest and greatest flagship (battery issue aside), it does not disappoint in the photography department.



Julie: I was really happy with images and video captured with the Note7 in all lighting condtions. Since Dave and I had to ship back the Note7 units early due to the recall and as such, we didn't have a lot of time to take a lot of test images. You can see a few examples above.
Fingerprint scanner
Dave: The Note7 fingerprint reader was rock-solid for me. It worked for me all but a few times that needed a second attempt. The one thing I did have to get reacquainted with was its placement. I find the reader being on the bottom center of the front cumbersome compared to it being on the upper back like the Nexus 6P.
Julie: I also prefer the location of the scanner on the Nexus 6P compared to theNote7 and like you, I had a good experience using the scanner on this phone. I'm still not a huge fan of fingerprint scanners though as they always seem to stop working reliably for me at some point down the road.
Iris scanner
Dave: I needed to setup the iris scanner several times before it worked for me. I do not wear glasses or contacts but the scanner still had a few issues. I defaulted to the fingerprint scanner 99% of the time.
Julie: I played with the iris scanner a little bit and found it to be more of a gimmick than actually being useful. This is especially true because you have to press the home button to wake the phone, then swipe up for the iris scanner to launch and then you need to locate the phone in front of your face to line up your eyes. This was way too much effort. Here's a quick video showing it not working.
Julie: I was able to get the iris scanner to work, but it was not reliable for me. I don't know if it is the fact that I wear glasses or that it's just a feature that's not quite ready for prime time yet.
Software and user interface
Dave: Compared to the days of the Note 2/3/4, TouchWiz has come a very long way in being less intrusive and overbearing. It is much leaner and does not get in the way anymore. Add in the Note/stylus specific features of the software and the Note7 is probably the most feature rich and useful smartphone out there.
Julie: I like TouchWiz too and agree that the Note7 is one of the best phones you can buy (as long as you get one without an exploding battery).
Using the Samsung Galaxy Note7 for phone calls
Julie: Except for volume levels not being loud enough through the phone's speaker, I didn't have an  issue with phone call quality in quiet environments. Whether I have initiated calls or received calls, I have no complaints about the Samsung GalaxyNote7 when it comes to its telephony features. I had no problems with dropped calls or signal strength issues that could be blamed directly on the phone.
Dave: I agree, the Note 7 was very solid in the calls department both I and those I was talking with had no issues being heard.
Overall performance and battery life using the Samsung Galaxy Note7 for day to day tasks
Dave: The Note7 was VERY zippy with nearly no lagging or glitching. It is a great device to use. In regards to battery life, since our review time was cut very short due to the recall, I was not able to test the Note7's longevity as much as I would have liked. Overall, it lasted all day especially when you add in the wireless charging that recharged the battery as it sat on my desk.
Julie: I had my eval unit a few more days than you, and I didn't notice any lagging, stuttering or other performance issues. Battery life felt on par with other phones I've used recently. Like Dave said, the Note7 lasted all day on one charge without any problems. Topping off the battery using the included AC adapter and Type-C cable was pretty painless because charging was so fast.
Final thoughts
Julie: I feel like the Samsung Galaxy Note7 is the best Android smartphone to date from any manufacturer. It's just a shame that this particular phone is always going to be referred to as that smartphone with the exploding battery. I'm hoping that Samsung can recover from this massive blow to their reputation.
Dave: I completely agree. The Note7 is a great device and Samsung is taking many steps to fix the exploding battery issue and ensure consumers have a safe device. Battery issue aside, Samsung's flagship smartphone is definitely on the pricey side of the spectrum. Only Samsung and Apple can still get away with charging near a grand for their high end tech. But if you can afford it, the Note7, when it is reintroduced back into the market, is a workhorse of a device and well worth considering.
Source: The samples for this review were provided by Verizon Wireless. Please visit their site for more info.