Social listening tools and platforms review: Social Media Monitoring Ideas.
Social media has provided people the ability to voice their opinion on companies, brands, people—in short, anything and anyone. What people say can be good or bad, but that alone doesn't determine your social media success. The way your company listens and engages with these social media posts is what dictates how those opinions influence your online presence and brand sentiment.
Social media monitoring (also known as social listening) allows you to gain powerful insight into your customers, competitors, and industry influencers. To take full advantage of social media listening, you need to spread your monitoring across several social media channels, and keep a constant watch for new opportunities. However, acquiring these insights takes time, and the use of the right tools.
To help you choose which social media monitoring tools to use, we've compiled a list of 11 tools to get you started—all of which are available in the Hootsuite App Directory or the dashboard itself.
Free Social Media Listening Tools
First, let's talk about some of the free tools available to you. Here are some that I use everyday:
Google Alerts: Google Alerts is a basic way to discover when a website is posting about you. However, it doesn't capture everything and it certainly doesn't cover social media or most blog sites. Still, it's a good, automated, entry-level way to get some feedback about any kind of search query emailed to you. Sign up atwww.google.com/alerts (if you want instant results, mark "as-it-happens" under "how often").
Hootsuite/TweetDeck: Both Hootsuite and TweetDeck offer some tools to consolidate and manage your social media accounts. You can also add search columns that are scanning Twitter in real time. Not everyone who tweets about you will be using your hashtag or tagging you so this is a convenient way to spot what is being discussed and reply immediately.
Icerocket: Icerocket specializes in blog searches. Their "big buzz" option also captures activity on Facebook, Twitter, and image sites such as Flickr too. It's free, easy to use, and does not require registration of an account.
Social Mention: Social Mention collects aggregated data across multiple platforms. You'll see results from Facebook, Twitter, YouTube, photobucket, etc. and there are some basic analytics that help you determine if the sentiment is positive or negative, how many different sources are active, etc. It's also free and doesn't require registration.
Topsy: Topsy is similar to Icerocket and Social Mention; the main focus is around social media, especially multimedia and blogs. You don't have to register, but you do have the option of creating an email alert (it ties into your Twitter or Facebook). / Read more at: http://www.huffingtonpost.com/simon-young/5-social-media-listening-_b_5317531.html
Tags: social listening platforms, social listening tools free, social mention, hootsuite, social listening tools comparison, social listening tools 2015, social listening tools for facebook, social listening tools radian6
Here are 11 effective social media monitoring tools
With over 234 million unique users and 8 billion monthly pageviews, listening and monitoring your brand on Reddit should be part of your social media monitoring strategy. Use the Reddit Keyword Monitor app to monitor who is talking about your brand, business, or competitors. The last thing you want is having some stranger host a Reddit AMA (Ask Me Anything—a traditional Reddit Q&A session) on behalf of your company, and only finding out after it happened.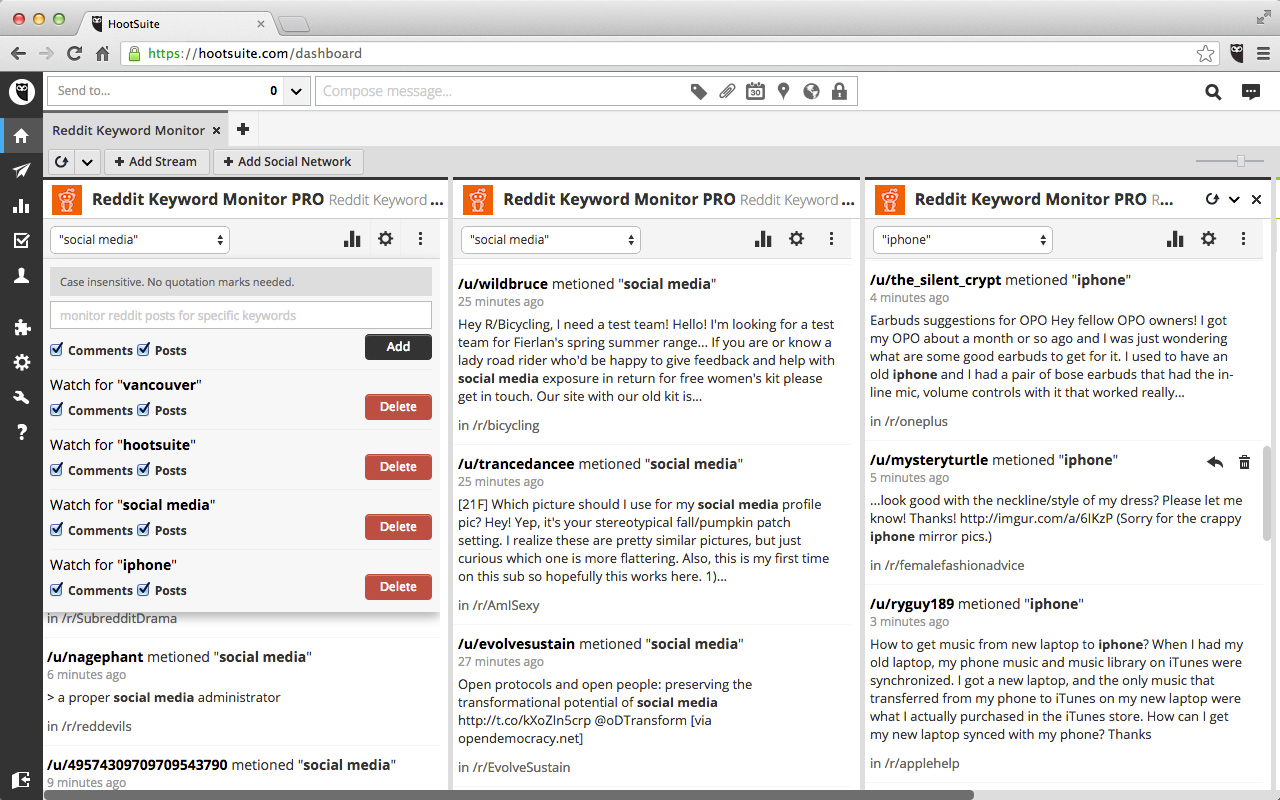 Key features include:
Set keywords and phrases you'd like to monitor on Reddit
Select to limit keyword searches to posts or comments
Share Reddit posts easily across your Hootsuite social networks
Quick access to the posts to respond and engage
View analytics reports on keyword occurrences over time
Monitor unlimited keywords across Reddit
With a community of over 400 million users (and a  majority age group being 18 to 29), wouldn't you want to make sure you're monitoring what people are posting on Instagram? Especially if the demographic of your audience falls in that age range. With the Geopiq for Instagram app you can monitor posts by location, hashtag, or username. The app within Hootsuite allows you to monitor and engage with users that are posting in your area, or an area you choose to follow. For example, you can use this tool for events to see what is being posted and to engage via comments to all those who attended your event.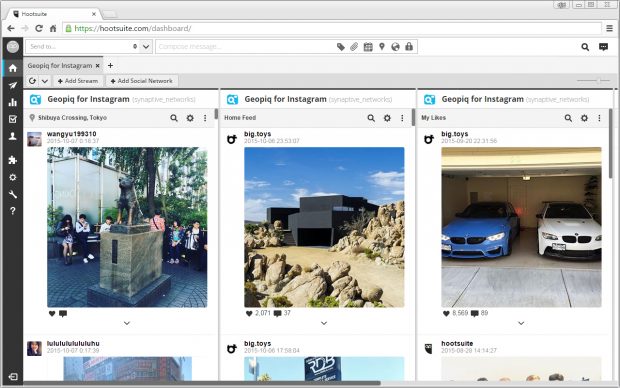 Key features:
View pictures being posted to Instagram by location
Monitor posts on Instagram by location, hashtag, or username
Engage with users by posting comments
Share your Instagram photos with your social networks
View your photos and a feed of photos for the users you follow, popular photos and your 'likes', all in your dashboard
View and post comments and 'likes'
View user information: number of photos, plus follower and following count
Manage and monitor all your favorite blogs and websites with Hootsuite Syndicator Pro. This tool provides a quick and easy way to view RSS feeds and share them to your social media channels, as well as rich filtering, monitoring and tracking tools, and most important, the ability to track which stories you've shared.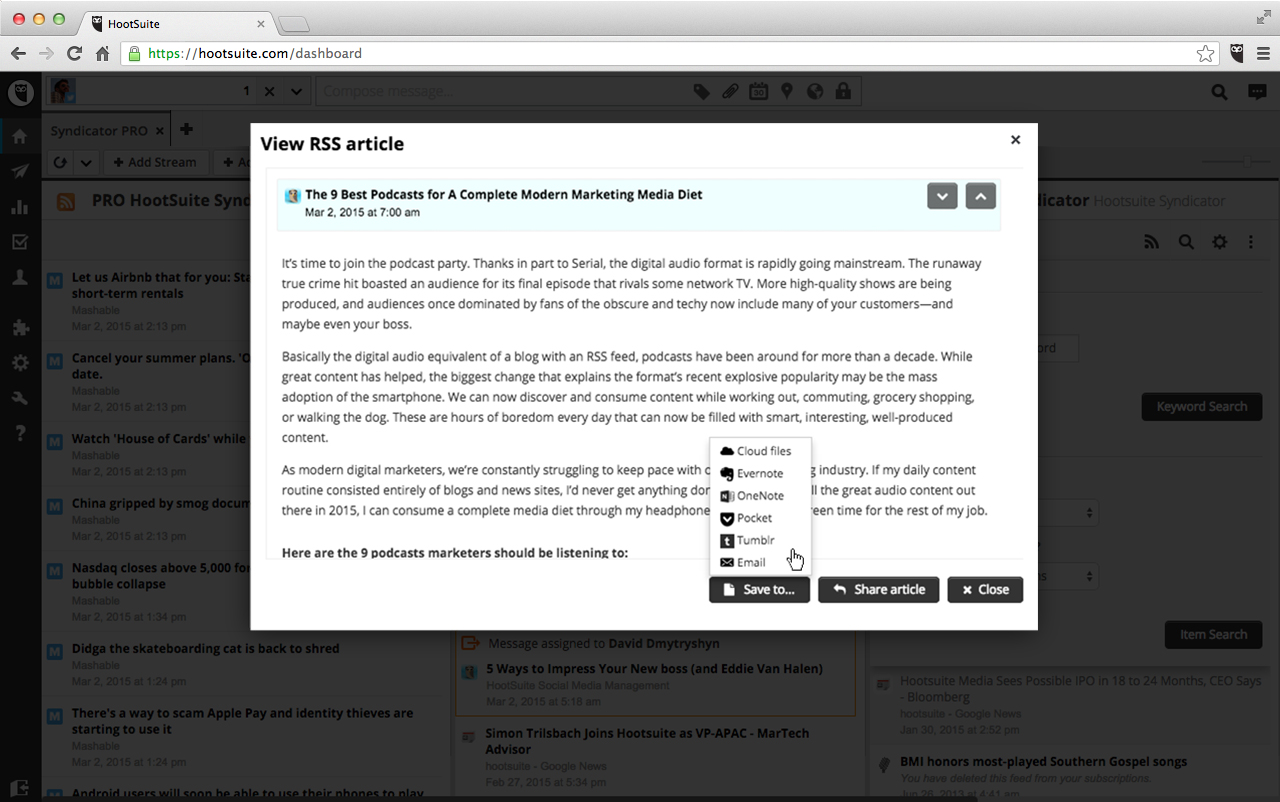 Key features:
Add streams of articles and stories via RSS feeds
Import and export OPML or XML files to add and share your RSS feeds
Easily manage large lists of RSS feeds with a rich toolset: set up Groups and filters, mark stories as 'read' or 'unread,' mark articles as favorite or 'read it later'
Share articles and stories to your social networks, and track the stories you have shared
Leverage your Hootsuite teams functionality to assign items to your teammates for follow up
Save articles to other sources like Pocket, Evernote, OneNote, Google Drive, Tumblr, and more
Online reputation management is extremely important and surprisingly easy. It's crucial that your brand manages its reputation offline and online. With the Reputology app, you can monitor and check major review sites so that you can engage with reviewers and resolve any issues in a timely manner.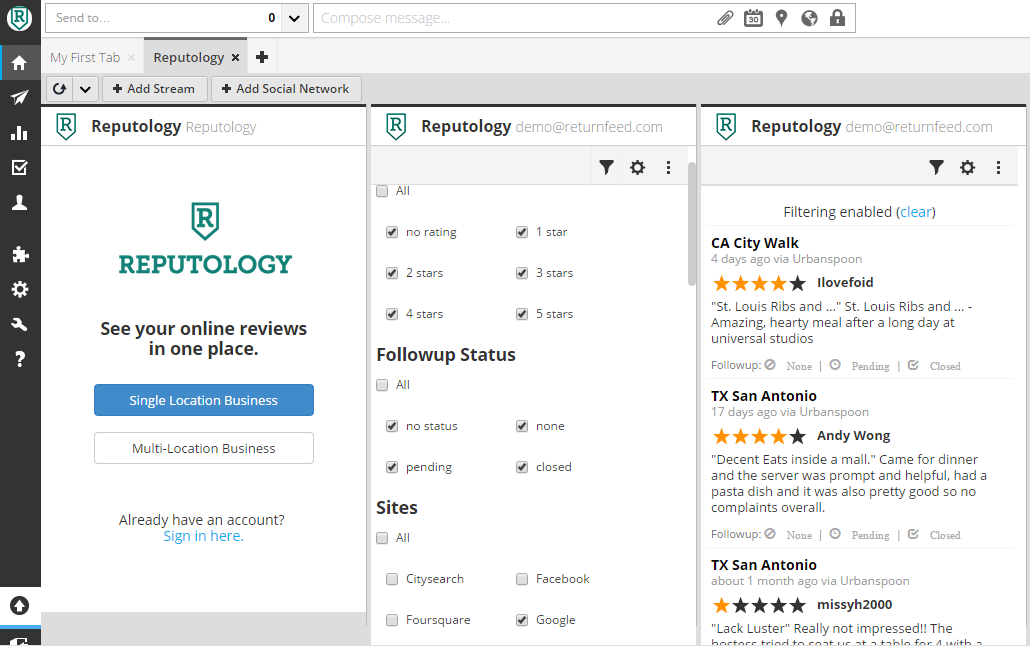 Key features:
Monitor all the major reviews sites: Yelp, Google, Facebook reviews, and more
Track activity across multiple storefronts and locations
Respond quickly via quick links
Email reviews to all relevant parties for proper escalation
Keep tabs on how reviews are followed up with by assigning reviews as tasks to users and tagging reviews by status
Create user levels with different permissions
What do you get when you combine social media listening, analytics, and powerful social media monitoring capabilities? Hootsuite Insights. This tool allows you to gain powerful real-time insights about your brand; track influencers, stories, and trends; and visualize the metrics, all in one place.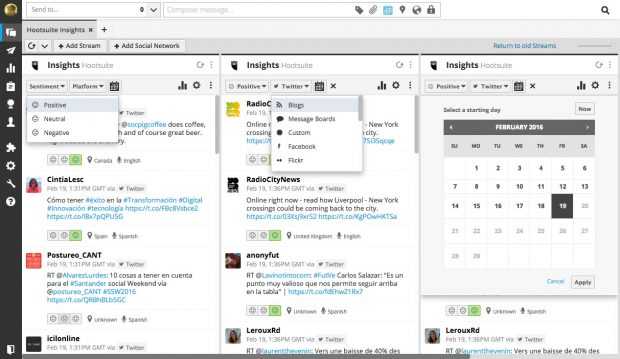 Key features:
More data sources in Hootsuite with results from more than 100 million sources now in your engagement platform
Engage directly from stream and take action on previously hidden results
Filter and tailor results by sentiment, platform, location, and language
Historical coverage: reach into the past to bring a stream of mentions to the forefront of your content and engagement team
6. Brandwatch
The tool's name says it all—watch your brand with Brandwatch. Strengthen your social media monitoring capabilities with the power of deep listening. With the Brandwatch app in Hootsuite, you can identify key insights from more than 70 million traffic sources across the web, including major social channels, blogs, forums, news and review sites, and much more. Make real-time, informed decisions with Brandwatch and take action on them.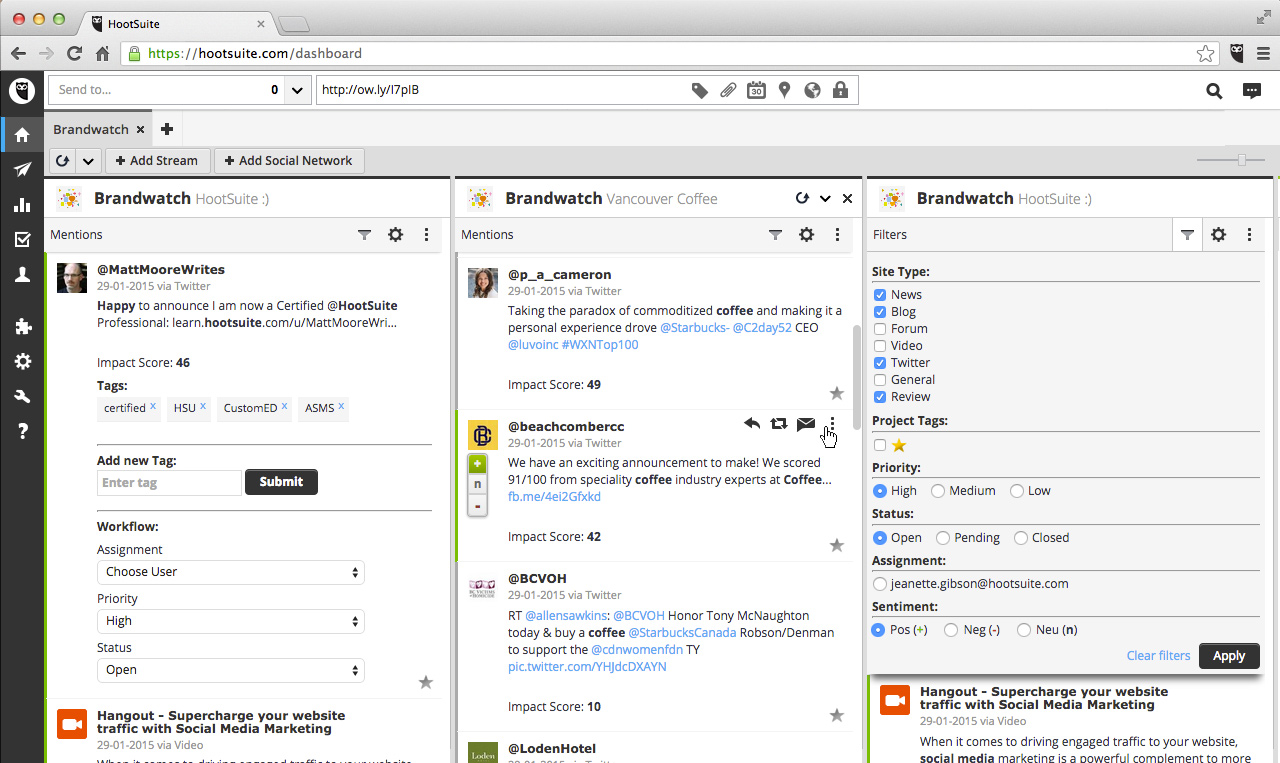 Key Features:
Never miss a mention with data from more than 70 million sources including blogs, forums, social networks, news, videos, and reviews
Monitor the tone and impact of brand mentions and surface important issues with Brandwatch's advanced sentiment and impact scoring
Use Brandwatch's advanced segmentation and filter your streams by authors, categories, tags, priority, and more for more targeted listening
Assign and respond to mentions found with Brandwatch instantly from your Hootsuite dashboard
7. ReviewInc
Whether it's a positive or negative online review, your response should be in the same place as that review. With the ReviewInc app for Hootsuite, view over 200 popular review sites across over 100 countries. Organize positive reviews for sharing on social media sites, and resolve negative issues instantly.

Key features:
See a stream of online reviews from over 200 popular review sites in one place, including Yelp, Foursquare and Google Places
Monitor multiple streams of reviews, engage with customers, and share positive testimonials of your business
Workflow tools allow you to coordinate responses to a review across your teams
Multiple account support: manage multiple locations, companies or set detailed filters for the app
It's no secret that social listening arms you with the information you need for deeper insights and better-guided business decisions, and Synthesio is a comprehensive option to help you with this. The tool lets you and your team listen to the social media conversations most important to you, analyze these conversations, and engage with them.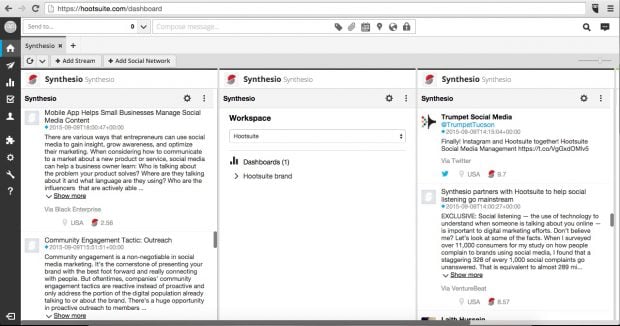 Key features:
Monitor multiple mention streams at once
Share more efficiently using Hootsuite's unparalleled share-to-social networks tool
Reply, Retweet, or DM with Twitter users directly from the app in Hootsuite
Assign mentions to other teams or members of your organization to resolve them
If you or your customers are based in the Middle East, Crowd Analyzer is an invaluable tool for social media monitoring and analytics. As the first Arabic-focused social media monitoring platform, Crowd Analyzer works "through sophisticated natural language processing algorithms" to analyze "Arabic content in terms of relevancy, dialect and sentiment." Crowd Analyzer not only monitors major social networks, but blogs, forums, and the news as well.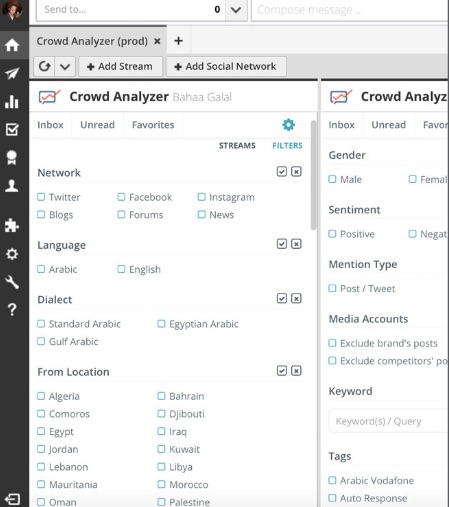 Key features:
Monitor multiple streams at once.
Use more than 60 powerful filters such as language, location, gender, and sentiment to filter through your content.
Search your content by keyword.
Reply, Retweet, or Tweet directly from Hootsuite.
Tag your content directly from Hootsuite and use these tags to drive your analytics on Crowd Analyzer.
10. 76Insights
If content marketing is an important aspect of your Facebook marketing strategy, use76Insights. This social media monitoring tool measures the resonance of your social media content and breaks down your resonance score, which is the number that measures how much social media engagement someone receives after publishing something.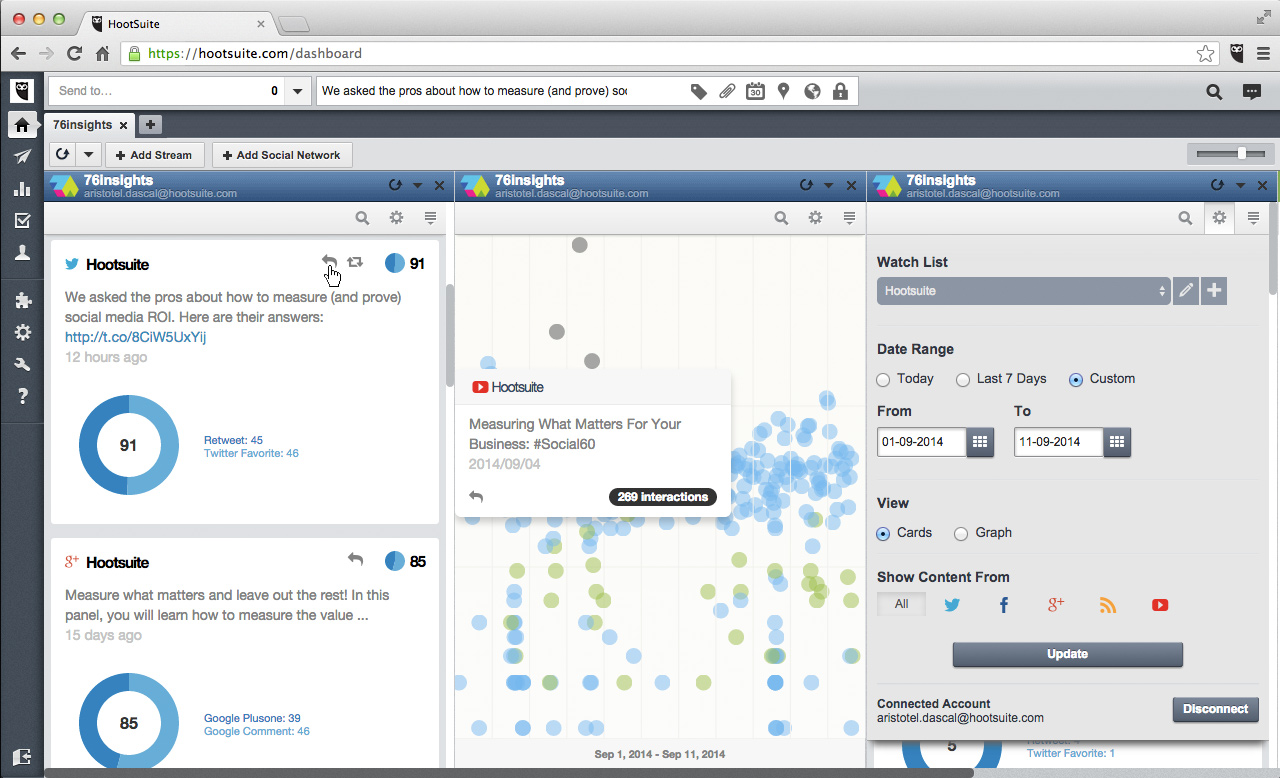 Key features:
Measure the resonance of your social content
See resonance score breakdowns by social network
See your content performance with intuitive visualizations
Group social accounts into handy watchlists
Share the most resonant content with your social networks
11. Hootsuite Pro
On top of all the social media monitoring tools mentioned above, Hootsuite Pro provides social listening capabilities right in the dashboard. Monitor specific keywords, hashtags, regions, and so much more. Stay on top of what people are saying about your brand and listen to your customers and competitors to gain competitive advantage.
Key features:
Grow your followers and monitor conversations
Save time publishing content to your networks
Improve ROI and analyze campaign performance
Up to 50 social profiles
Access to premium apps
One enhanced analytics report
Bulk message scheduling
/ Read More at: https://blog.hootsuite.com/social-media-monitoring-tools/
According to social media examiner:
#1: Social Mention
Social Mention is an excellent way to learn about brand mentions and interactions in an easy-to-digest visual format.
Type in the name and click Search to see the links to your mentions. Sort by timeframe or source.
Also, find your brand's strength (how often it's being discussed), the passion of the posting (how likely someone will repeat the mention), the sentiment (positive to negative) and the reach (measure of influence). Learn the top keywords, users, hashtags and sources as well.
Plus, get an RSS feed of your mentions to stay in the loop. Social Mention is a free online service.
#2: Mention
Mention is one of the newer tools that replaced Google Alerts. (Google Alerts would send emails notifying you whenever a keyword or phrase you specified was cited online.)
Mention is a way to visualize your online presence, separating the signals you want from the rest of the noise online. The platform allows you to monitor millions of sources in real time and in 42 languages, so you can react and interact.
Do an online search or elect to receive a daily email of the aggregate of mentions from the previous day. Plus, if you work with a group or large company, export stats to PDF or CSV, so you can share data with your team.
Mention offers a 14-day free trial, and then a variety of plans from which to choose. The free basic plan is one alert, one user, 250 mentions/month.
#3: Talkwalker
Use Talkwalker Alerts to set up a search query for your keyword or phrase. Narrow the returned data by result type, language, frequency and quantity.
Talkwalker gives you brand mentions over time, as well as the sources where these mentions occur. Learn about the performance of the brand mention, the engagement levels, influencers talking about your brand (this includes websites, as well as social media), sentiment analysis, general themes featured in a tag cloud and demographic data (location, language and gender breakdowns).
There's even a world map tracking where conversations originate. Pie charts hover over every location to indicate the sentiment in each country.
While Talkwalker Alerts is another free service to use as a replacement for Google Alerts, I don't find it as comprehensive or thorough as Mention. For example, on one of my searches, Talkwalker found about 50% of the references that Mention located. However, I use them in tandem to ensure I have decent coverage.
#4: Topsy
Topsy is a search engine that lets you monitor brand mentions across the web, with a focus on social insights from top conversations online. Topsy's database is in real time, and it measures sentiment and provides analytics.
Sort by links, tweets, photos, videos or influencers, or include everything. Plus, drill down to how recently results were discovered. This is especially helpful if you have a large volume of content to wade through.
Topsy appears to have more comprehensive data than both the Mention and Talkwalker free service. Just remember, its focus is on influencers and top (not all) conversations.
#5: Hootsuite
Perhaps the easiest and most common brand-conversation monitor is Hootsuite. It helps you keep on top of chatter in real time on social media platforms such as Facebook,Twitter and LinkedIn.
To use Hootsuite most effectively, craft a stream with the keyword that represents your search.
First, add a stream, and then select the keyword. Now, select the account under which you're monitoring the brand. Next, type in the keyword or phrase. Add it, and then add the stream.
You can also do searches for your brand on Hootsuite for Twitter and Facebook. There are free, pro and enterprise accounts available.
#6: PinAlerts
PinAlerts is more of a Pinterest alert system than a traditional brand monitoring platform. It monitors links to pins from your website, and notifies you via email when someone pins from your site.
Using this tool, you can jump right into conversation with people on Pinterest who shared your pins and develop relationships with them.
PinAlerts gives you another angle from which to monitor the mentions of your brand's URL.
Conclusion
It's helpful to monitor your brand online, so you can engage when appropriate and respond when necessary.
These tools are time-savers that make monitoring easy. Many of these tools are notification systems that allow you to act when you see alerts. And most, if not all, of these platforms have a real-time search component.
If you're monitoring a brand of any size, a combination of these tools will help you stay on top of the conversations and become part of your social community. / Read more at: http://www.socialmediaexaminer.com/6-social-media-monitoring-tools/
What do you think? How do you monitor your brand on social media? What are your favorite social media monitoring tools? Please share your thoughts and recommendations in the comments.
That being said, let's take a look at some of the best free monitoring tools:
Hootsuite is one of the best free social media management tools available and covers multiple social networks, including Twitter, Facebook, LinkedIn, WordPress, Foursquare and Google+.
The weekly analytics reports and the excellent team management facility (delegating tasks, sending private messages) can be very useful when there's more than one person handling the social media accounts.
TweetReach is the right tool for your business if you're interested in monitoring how far your tweets travel, as TweetReach measures the actual impact and implications of social media discussions.
It is a good way of finding out who are your most influential followers, implicitly guiding you towards the right people you should be targeting when aiming to share and promote online content.
Klout is probably one of the most controversial social media analytics tools. There are those who hate it and claim that its scoring system is completely inaccurate, and that trying to interact with them is an impossible mission (curious thing as they provide interaction-measurement services).
On the other hand, some people find it useful, as it measures influence through engagement on Twitter and it is a good means of keeping an eye on what people think about your brand, and to see what influences them the most.
In this way, you can adjust your posts according to your target audience's interests and increase your engagement rate.
Quite popular among social media enthusiasts, Social Mention monitors over one hundred social media sites. It is probably one of the best free listening tools on the market, as it analyses data in more depth and measures influence with 4 categories: Strength, Sentiment, Passion and Reach.
Twazzup is great for social media beginners looking for a Twitter monitoring tool. You just enter the name you want to track and you instantly get real-time updates, meaning the most active top influencers, top RTd photos and links, and most importantly, the top 10 keywords related to your search.
If aiming to get an overall view of a brand, Addictomatic can be very useful and as straightforward as Twazzup. The only difference is that Addictomatic focuses on a variety of platforms such as: Flickr, YouTube, Twitter, WordPress, Bing News, Delicious, Google, Ask.com, etc. It's really useful for keeping an eye on recent industry developments and brand reputation.
HowSociable is a handy tool for measuring yours and your competitors' social media presence.
A free account allows you to track 12 social sites, including Tumblr and WordPress. However, if you're interested in 24 more, such as Facebook, Pinterest, Twitter, etc. a pro account is required.
HowSociable's approach is a bit different as it breaks down scores for different social media platforms, allowing you to see which social media platforms work best for you and which ones need further development.
This tool offers blog, Twitter and Facebook monitoring in 20 languages, as well as results graphs that you can play with. It allows you to choose the periods of time you are interested in monitoring.
It can be used for keeping an eye on your blogger activity, as they have around 200 million blogs in their database and they also provide the possibility of finding the latest trend terms related to your search.
TweetDeck covers the basic needs of any Twitter user, so is a good option for beginners. It's a great tool for scheduling tweets and monitoring your interactions and messages, as well as tracking hashtags and managing multiple accounts. However, it lacks in regular updates and can be prone to bugs.
Mention monitors million of sources in 42 languages, helping you stay on top of all your brand mentions on social networks, news sites, forums, blogs or any web page.
The app lets you keep track of your team's actions, share alerts and assign tasks. Generating reports and exporting mentions can help you get a snapshot of your mentions by source or language over a selected period of time.
They offer a 14-day free trial and the free basic plan is one alert for one user.
Twitonomy offers a range of metrics for free, with premium features enabled for $19/month. Simply sign in with your Twitter account for robust analytics about your account. You can add your competitor's Twitter handles to gain insights about their activity too.
Twitonomy shows you details of your Twitter lists, followers and followings, your most popular Tweets, engagement statistics and much more.
You can track conversations on Twitter based on hashtags, users, or lists. The details are displayed in graphs and easily digestible stats.
Focusing specifically on Twitter analytics, Followerwonk is the right tool to find, analyze and optimize your online presence for social growth.
The tool is perfect for planning outreach campaigns by allowing you to search Twitter bios, connect with influencers or fans and break them out by location, authority, number of followers and more.
Interestingly, with Followerwonk you can compare your social graph to competitors, friends or industry leaders and measure how well you are doing.
Targeted at small-medium businesses, SumAll is a cross-platform analytics tool that will help you understand the correlation between your social channels.
The user interface does take a bit of time to get familiar with, but there are an extensive amount of metrics you can analyze.
The daily email updates can give you a quick overview of top level stats for your account compared to the previous week, allowing you to quickly react and respond to urgent issues.
Simply Measured makes it easy to analyze your paid, owned and earned activity, and even though it is a paid tool, it can still be used to create free individual reports for Instagram, Twitter, Facebook, Vine and Google+.
They provide insights such as Facebook content, competitor and fan page analysis, key customer service metrics measurement on Twitter, Instagram engagement, content and trends analysis and many others.
With Google Alerts you can monitor the web for interesting new content, mentions of your brand or even yourself, your competitors, industry leaders and so on. As they're extremely easy to set up, this is probably a good place to start for beginners.
By creating a Google Alert, you will receive email notifications every time Google finds new results on a topic that interests you across blogs, forums and news sites.
It should be clear if you've got this far that the listening tool space is a crowded one.
We've developed our own social media monitoring technology with larger, more sophisticated organisations in mind, but we hope this list for getting started is a useful foundation. If you are interested in seeing what more complex tools like Brandwatch can offer, the please do get in touch by requesting a demo below. / Read more at: https://www.brandwatch.com/2013/08/top-10-free-social-media-monitoring-tools/