Messaging platform Viber has released a new feature which will allow users to send messages in secret chat windows that self-destruct after a specific amount of time.
WhatsApp is not alone out there — rivals such as WeChat, Viber, Telegram, Messenger and a few others are constantly competing with each other to rise to the top in the messaging market. With WhatsApp being the most-used messenger around the world, others are constantly edging up against it with features that could draw in more users.
WHATSAPP RECENTLY ANNOUNCED THE STATUS FEATURE AND WITH THE NEW INFORMATION
WhatsApp recently announced the Status feature and with new information about bringing back the old text Status option back, WhatsApp is definitely making constant news around. However, in the race to the top, Viber recently announced that they have incorporated a new 'Secret Chats' feature that will self destruct automatically after some time.
THERE ARE TIMES WHEN ONE WANTS MORE SECRECY OR PRIVACY APART FROM SIMPLE END TO END ENCRYTIONS
There are times when one wants more secrecy or privacy apart from simple end-to-end encryptions. This is when we want messages to be completely private and even vanish after some time. Snapshat already had this feature, but none of the other messaging apps could do it. Now Viber announces Secret Chats that will help users have conversations with advanced privacy elements.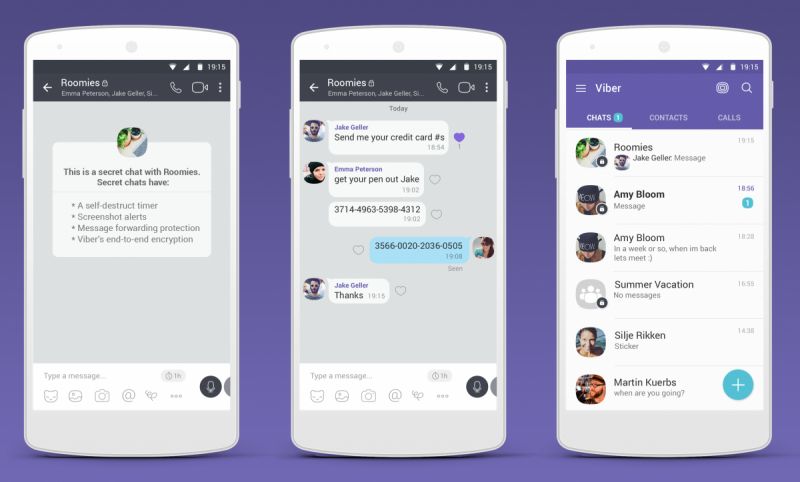 With Secret Chats, you can set a self-destruct timer for every message in the conversation. Messages in a secret chat can't be forwarded and screenshots are either totally unavailable or alerted to you by an instant notification in the chat screen. As always, your communications will continue to be protected by Viber's end-to-end encryption.
You can have two conversations going with the same person or group at the same time – one regular chat and one secret chat. You'll know which one of them is secret by the lock badge on the chat icon. Starting a secret chat from an existing regular chat will not delete or replace the regular chat, it will just start a separate one.
Secret Chats are another way Viber users can choose to connect freely and securely. Our goal is to continue to bring you features that will enable you to communicate without limitation and without hesitation.
What's more? You can hide your secret chats and access them later with a PIN. Once you've created a secret chat, find it in your chat list, swipe left and select the hide icon. How's that for control over your private conversations?